HEC student Sushil Reddy took two years off from his studies to launch an audacious 61-day odyssey through 7,000 Indian kilometers in a retrofitted auto rickshaw powered by…solar and electrical power. Freshly back on campus to complete his MSc Sustainability and Social Innovation (SASI), Reddy prepares to return to his homeland in April when he will further explore solutions to transform the legendary "tuk-tuk" into a weapon of mass sustainability and clean air.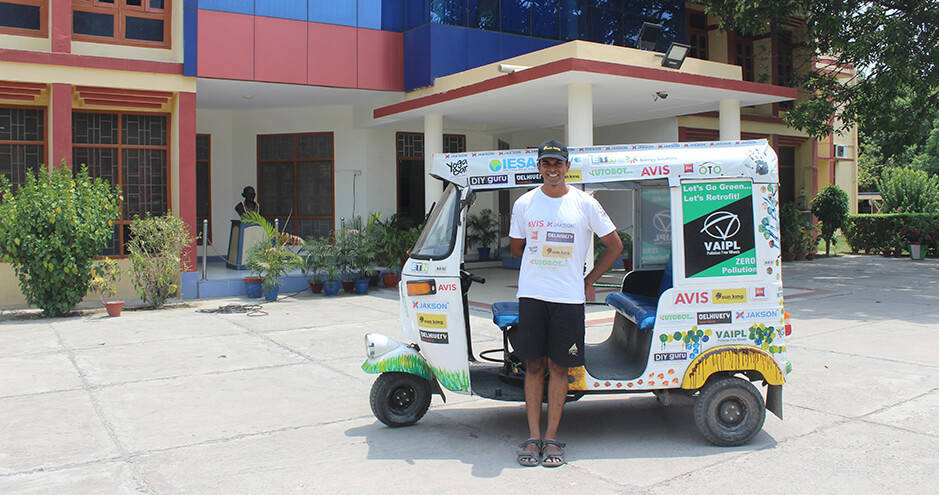 Could the rickshaw prove to be the answer to India's chronic air pollution? Exactly 60 years after a knockdown version of the Daihatsu Midget penetrated the Southeast Asian market, Sushil Reddy has embarked on a project to prove his VAIPL solar-assisted electric retrofitted auto rickshaw could help overcome his nation's chronic air pollution levels. India's cities are among the most polluted in the world, its capital Delhi surpassing national pollution standards 95 days out of 100 (2015). "In my home city of Mumbai, there are over 2 million rickshaw drivers. Their two-stroke engines contribute to the debilitating vehicular pollution in the city."
Indeed, the city of 13 million people has experienced a 36% leap of ambient particulate pollution which gas-driven rickshaws contribute to. Such health hazards have jolted the government into declaring the pollution levels an "emergency situation" with the huge number of rickshaws pinpointed as one of the culprits. "With the launch of environmental action under the Paris Agreement set for 2020, and fares being squeezed dangerously in the meantime," writes reporter Tony Diver, "the familiar noise of the tuk-tuk on Indian city streets could soon be facing extinction."
SPREADING AWARENESS
Its demise is one of the key reasons driving Sushil Reddy. He recruited three like-minded activists (a software engineer, a solar engineering specialist and a marketing professional), and created the SunPedal Ride. This project is designed to spread awareness about solar energy, debunk several myths and contribute data research and analysis on solar power in transport.  "India is still at an early stage in adopting energy alternatives to petrol. Rickshaw owners, for example, believe a solar-powered version is more expensive than a classic rickshaw because of the initial outlay (about 40% more expensive, Ed.). They say it can't travel long distances, that it's harder to drive, that it won't take heavy loads and that it lacks autonomy. Our 61-day voyage laid to rest all these assumptions I believe."
After several months of planning, the team of four set out in May 2019 along the country's Golden Quadrilateral Highway which connects India's four top metropolitan cities. They shared a support vehicle and an auto rickshaw specially provided by the Bengaluru-based Volta Automotive company which manufactures and deals with green energy projects. Their journey took in 60 towns and cities and as many microclimates and landscapes, a diversity which largely influenced their research. "India is a land of contrasts and these climactic and geographical changes played on the performance of the batteries," explains Reddy. "In ideal flat conditions and warm temperatures (25-30°C), they can go for 130 kilometers without a recharge. We experienced that in southern India, near Bangalore. In more mountainous regions, however, that autonomy goes down to 60-70 kilometers. But that's no big handicap: a classic tuk-tuk only does an average of 70-80 kilometers a day, and recharging our battery using a normal socket took us about 4-4.5 hours, anyway."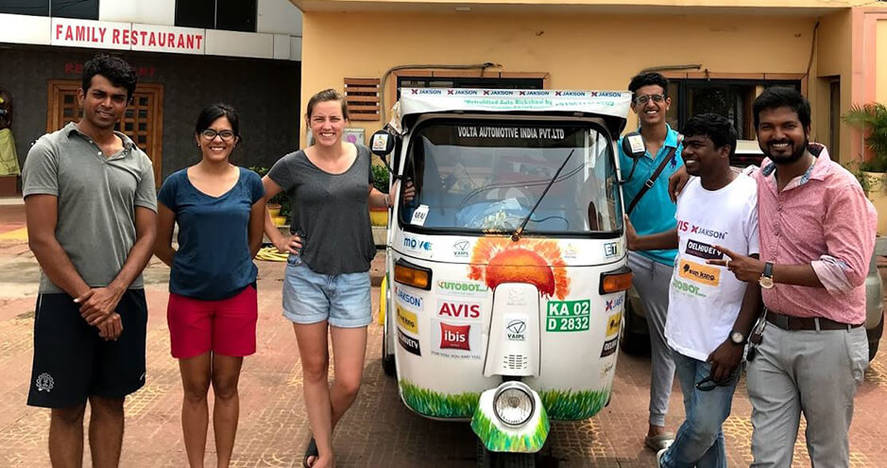 POOR RECYCLING INFRASTRUCTURE
The trip also proved that their vehicle was just as fast as a classic rickshaw (55 km/hour), it could take as much weight (four people and 50 kg of luggage) and was far cheaper. "Sure, the initial investment is higher. But you're making a saving of around 50% over a battery-driven rickshaw's lifetime," insisted Reddy. "Each year, it's 80% cheaper to run, not only because there's no gas to buy, but its operational expenses are far lower."
Throughout the trip, the team gathered data they hope to share with their sponsors and other researchers. These include the vehicle's performance in terms of endurance and battery performance in different temperatures and terrain. SunPedal also recognized the challenges posed by the recycling of batteries and the paucity of charging stations. "These are issues we're concerned about," admitted Reddy. "For the moment, industry in India doesn't have a battery recycling system." Meanwhile, the government announced in January 2020 the building of 2,636 charging stations throughout the country.
GENDER EMPOWERMENT
The voyage also threw up other unexpected bonuses. A meeting with an association of women drivers in Gujarat revealed how much easier the solar rickshaw is to maneuver. "We met 50 women who are sponsored by the government in a women-empowerment project and they really enjoyed the rickshaw's autonomy, its silence and easy driving."
Women empowerment is one of several objectives the SunPedal ride shares with HEC's MSc sustainability and Social Innovation (SASI). "My experience at Jouy allowed me to better grapple with the importance of parity in the workforce. SASI's sustainability objectives, aimed at reducing waste and energy consumption were obviously of great help in building the concept. But I also benefitted from the school's alumni network. For example, Sumeet Anand (H94) of the French Chamber of Commerce, is keen on the project. Who knows, could this lead to French-Indian collaboration on a larger scale?" 
Halfway through the trip, fellow SASI graduate Mathilde Vermeire joined Reddy and his three colleagues. Taking time off between two jobs, the market analyst at Liberté Living-Lab was immediately taken by the project's commitment to solutions for India's pollution crisis: "My two weeks between Calcutta and Bhubaneswar (Odisha state) brought home to me the need to instigate this alternative," she said back in Paris. "I was particularly impressed at how the retrofitting of the rickshaw contributes to a circular economy, giving new life to some of the old rickshaws you see on the road."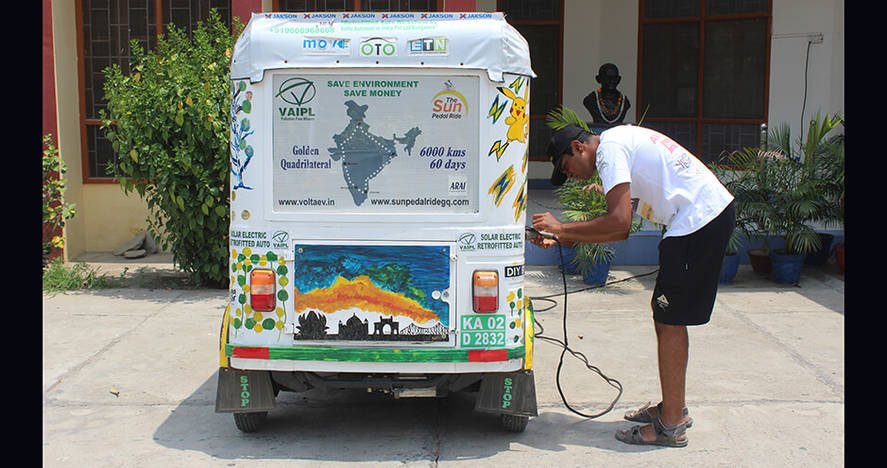 SUSTAINABLE RICKSHAWS
The SunPedal Ride project is not Reddy's first foray into tapping solar energy for transport solutions. Back in 2016, he entered the Guinness Book of Records for an equally long ride, this time on a solar powered electric bicycle. The 30-year-old recounts that adventure as part of an eBook that focuses on his biking achievements on three continents. This time round, however, he sees the rickshaw odyssey as a lifelong commitment to harnessing solar energy as part of India's attempts to eradicate its urban pollution scourge. "We are planning to write up our experience and launch the book during the Indian Festival of Literature in January 2021. It will be a kind of adventure story with a message."
Meanwhile, the philanthropic engineer is gearing up to share his experience at the Transport Exhibition in Delhi in May 2020. Three years ago, CityMetric, an arm of Britain's New Statesman magazine, stated that the rickshaw "stands between regulators and a greener India". Sushil Reddy and his team are hoping to stand this affirmation on its head: they believe their solar power initiative will revolutionize this vision of the rickshaw and forge one of India's symbols into an effective tool for environmental and energy sustainability.